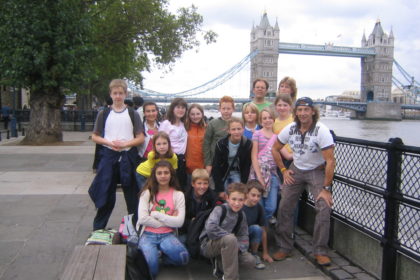 Die Klassen 7a und 7d mit ihrem Führungspersonal Fr. Herzel, Fr. Klein, Hr. Brinkmann und Hr. Raskop, sowie einigen unerschrockenen Eltern, besuchten am 13., 14. und 15. September die britische Hauptstadt nach der GASN*-Methode. (* Gib alles – schlafe nie)
Shakespeare und Schiller haben im Folgenden versucht, das Wesentliche zusammenzufassen:
Seven D and Seven A   //  go to London town – hooray!
Nachts hält der Bus von 'Auto Jütte'   //  direkt vor uns'rer 'Fichte'-Hütte.
We cruise thru Holland, Belgium, France   //   the kids on board all sing and dance.
Bis dann im frühen Morgengrauen   //  die London Skyline ist zu schauen.
First thing 4 everyone to do-  //  go find a loo at Waterloo!
Hr.Raskop  dann – ich  schwör et, Alter   //  kauft ruck-zuck Tickets an so'm Schalter,
to ride the tube until u rot !   //  This is the truth – I kid u not…
Fr. Herzel als die Frau  der Tat   //  macht Karten klar für's Riesenrad.
Then finally – oh, what a bliss   //  we tackle the metropolis!
Glockentürme, Kathedralen –  //  Da sieht man Schüleraugen strahlen.
Aston Martin or Rolls Royce-  //  u name it buddy, make your choice!
Ob schwarzes Taxi, roter Bus  //  der London Transport ist ein 'Muss':
The Palace first, then Harrod's shopping,   //  followed by hard-core subway hopping.
Die Lehrer kennen keine Gnade,  //  doch niemand findet's wirklich schade,
because the city is so cool!   //   Let's hurry up – don't be  a fool!
Wir müssen noch den Tower seh'n   //  St. Paul's hoch in die Kuppel geh'n!
The highlight, though – one can't deny   //  is certainly the  'London Eye'.
Tief unter'm Meer, in schwarzer Nacht   //  hat uns der Bus nach Haus'gebracht.
Now everybody at GeWei   //  knows: London makes u really high!!!
Copyright: georgyporgy