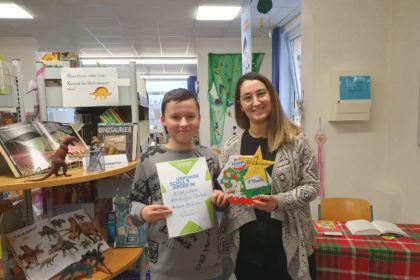 And the winner is…
Jesper W. aus der Klasse 6b wird die Gesamtschule Weierheide beim Stadtentscheid vertreten!
Es geht um das wirkungsvolle Vorlesen. Jarne (6a), Jesper (6b), Maya (6c) und Lawenia (6d) treten gegeneinander an. Schließlich kommt es zu einer aufregenden Entscheidungsrunde zwischen Jesper und Lawenia. Eine schwierige Aufgabe – nicht nur für die Schülerjury, sondern auch für das Kollegiums-Team.
Zum Schluss kann es nur einen Gewinner/ eine Gewinnerin geben.
Dieses Jahr ist es Jesper! Herzlichen Glückwunsch!